Over the past few years, Italy has embarked on an important path of innovation and support for young entrepreneurial initiatives. This is demonstrated by the strong growth in the investment volume of the last two years: 1.3 billion euros, according to data from StartupItalia's Startup&Technology Trends report.
It is precisely in this context that SMAU operates, a platform created with the intention of connecting Italian start-ups with companies that invest in innovation – such as innovation managers, incubators and accelerators.
Every year, SMAU organizes a roadshow in different cities across Europe, acting as a liaison between Italian start-ups, international corporations, and foreign investors. Among the goals of the initiative are the many possible collaborations and partnerships, the exchange of ideas and stimuli among the various exponents of the European innovation scene, and the spread of the Made in Italy brand in the field of innovation.

The opening of SMAU in Berlin last April 28 was celebrated with an evening reception at the Italian Embassy. As many as 36 start-ups were featured at the networking event, hailing from a wide range of sectors: from open innovation to the food industry, from retail business to smart manufacturing, passing through energy and environmental innovation, smart mobility, and E-Health. In addition to these diverse and innovative start-ups, ten large Italian companies, interested in investing in these sectors, were present.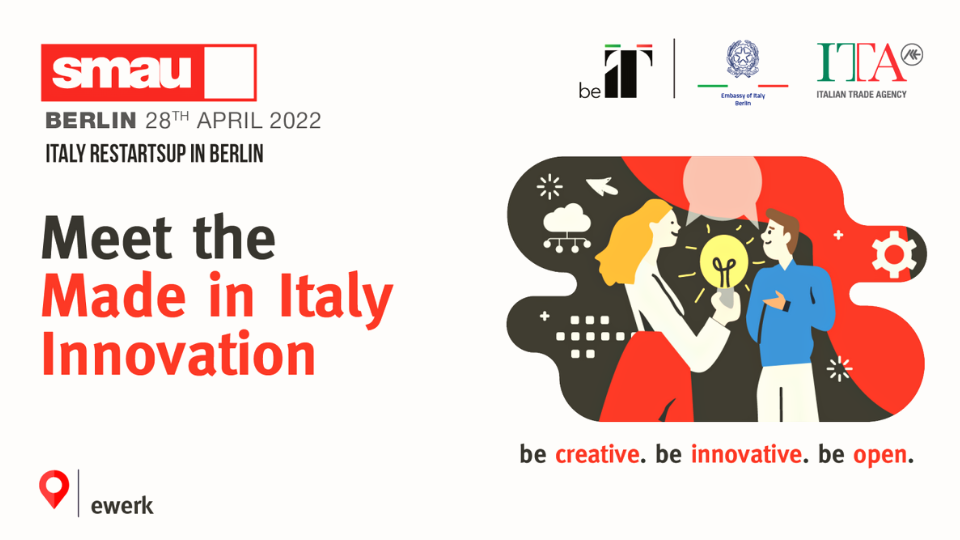 The second day of the event took place inside the E-Werk, industrial building, where, thanks to the presence of a special elevator and matching area sessions, there was an opportunity to exchange business strategies and cooperation opportunities. Panel discussion, which were held throughout the day, contributed to the dialogue on innovation, engaging the guests in attendance. SMAU concluded with a study tour, through which participants visited some of Berlin's most significant places in terms of innovation, including incubators and accelerators in the city.
Barabino & Partners participated in this important edition of SMAU, "SMAU Italy RestartsUp in Berlin" 2022, organized in collaboration with ITA- Italian Trade Agency Berlin office. The B&P Deutschland team contributed to the promotion of the event in the Berlin area and, more generally, in the German territory. Numerous activities were carried out, including various communication and press office activities: from issuing press releases to preparing editorial content, as well creating video interviews with the event organizers and the teams of the start-ups involved.
Among the most relevant pieces of coverage was Süddeutsche Zeitung's interview with Anna Impedovo, co-founder of ISAAC, one of the start-ups involved.