Gender Equality Certified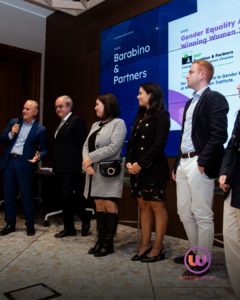 Gender Equality is part of the cornerstones on which we have built Barabino & Partners. In fact, we have always been convinced that committing to upholding Gender Equality requirements is a key step in opening up a new vision of society that is more inclusive, fair and sustainable for all.
In 2022, 63% of the corporate population were women, and 34% of management positions were held by women These data, in addition to making us proud, on October 16, 2023 contributed to us obtaining the Gender Equality Certification, the first Italian certification on gender equality in the world of work issued by the Winning Women Institute. A goal that for us represents the continuation of a path that leads us every day to be spokesmen for a value – gender equality – in which we have always believed.
We are asked whether this is an extraordinary achievement: no, it is not. Obtaining the "Gender Equality" certification generates satisfaction for us, but it represents the formalization of a simple and further step in our journey of attention to Governance issues, to the working climate and environment, to the sense of belonging that unites us, to the relationship with our stakeholders all. Internal and external. And that today, precisely, is expanded with the certification of Gender Equality. A simple step in a path that we have been on consistently for years: probably since when these issues were neither trendy nor on the lips of many, but which we believe are in the DNA of Barabino & Partners' people.
Luca Barabino
Winning Women Institute's Gender Equality Certification
Since 2017, Winning Women Institute has been a company committed to the issue of Gender Equality that aims to spread the principle of Gender Equality within the world of work.
Gender Equality Certification is obtained by passing an analysis process based on an innovative methodology called Dynamic Model Gender Rating.
The method involves four areas of investigation and sixteen parameters on a set of KPIs designed to analyze the organization's strengths and room for improvement in terms of gender equality.
The Certification process begins with an assessment phase to examine the status of equal opportunity in the company and how it meets the KPIs, based on the four survey areas, namely:
the opportunity for women to grow in the company
pay equity
policies for managing gender diversity and inclusion
the protection of parenting
After this process is completed and areas for improvement are analyzed, the awarding of Gender Equality Certification occurs following a third-party audit to review and validate the numbers, policies and processes examined
Winning Women Insistute
Winning Women Institute accompanies companies toward a virtuous goal: to reduce the gender gap. To achieve this goal Winning Women Institute has launched the first Italian certification on gender equality in the world of work, structuring a rigorous process fine-tuned with the innovative Dynamic Model Gender Rating methodology.
This methodology was devised by the Scientific Committee of Winning Women Institute composed of CEOs, HR Directors, university professors and communication experts, and is chaired by Sonia Malaspina, Director of Human Resources Italy and Greece and Director on the Board of Danone Italy.