In recent months, we have heard a lot about it, especially because of its great success since last July in the United States. But have you figured out what it is all about? Well, let's start with the basics…
With over 21 million users per month and nearly 3 million logins per day, BeReal is the app that allows users to capture moments in real time, without filters, post-production, sponsorships or likes. Launched in 2020 in France by Alexis Barreyat and Kévin Perau and became famous just a few months ago, the platform was created with the aim of showcasing people in their daily lives in total spontaneity, even in not exactly photogenic – or rather "Instagrammable" – attire. Hence the app's payoff: "Your friends for real."
BeReal stands as an antidote to the polished, perfectionist style of canonical social media and focuses on a return to intimacy, starting with the possibility of sharing content only in one's own circle of friends. Therefore, breaking all those influencer building logics typical of socials like Instagram and TikTok.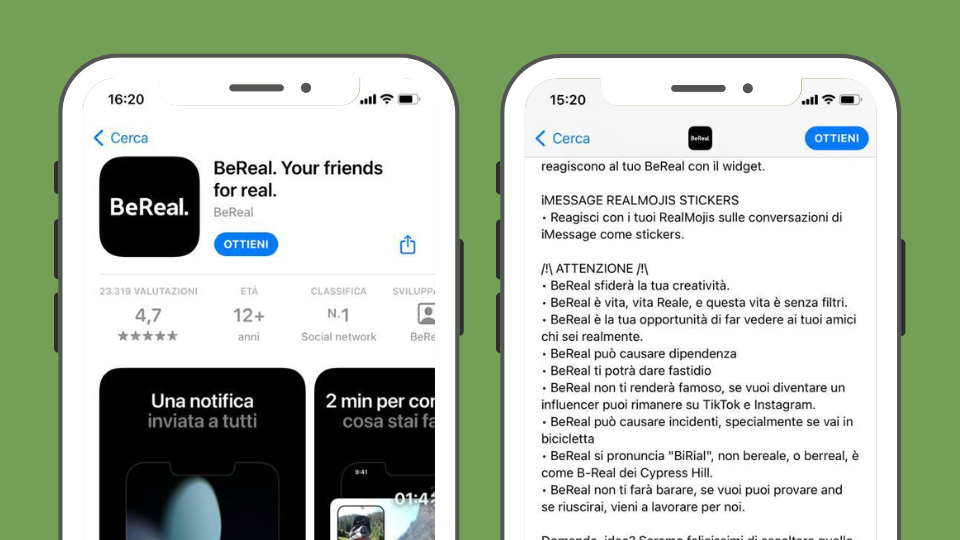 "BeReal won't make you famous, if you want to be an influencer, you can stay on TikTok and Instagram", this is how developers describe it on the various App stores.
How does it work?
With one notification a day, at different hours each time, the app alerts you that it's time to post a photo. At that point, you have only two minutes to produce your content and publish it, using both cameras on your phone. The result is a double shot, as real as possible, that can be shared with friends or on a public homepage.
If posting occurs after the two-minute mark, the photos are reported as "delayed". In addition, you cannot view your friends' posts unless you have first posted your own shot. This is a system called post-to-view, also used in the past by Facebook for the messaging app Slingshot.
Interaction between users is also made more authentic, without likes or emojis: "RealMoji", a selfie representative of the expression being communicated, must be used to react to content.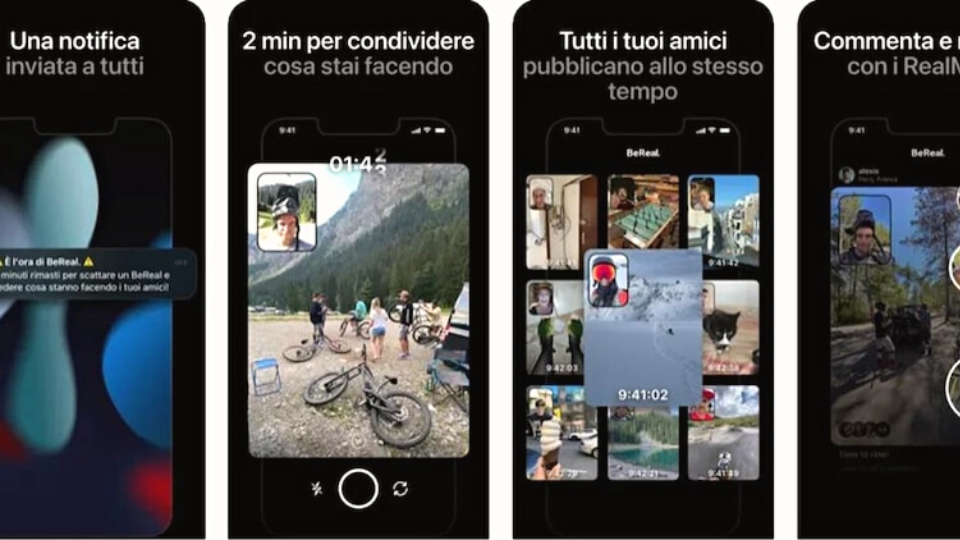 Is there room for brands and companies?
Many brands are now aiming to reach and engage with the younger generation, and BeReal seems to fit perfectly as it is the preferred channel for Generation Z.
In the United States, there are those who have already tried to exploit its potential to target the very young audience. It is the case of the US restaurant chain Chipotle Mexican Grill. Having landed on the app earlier this year, it decided to exploit it for the launch of a promotional campaign by posting a promotional code, which would entitle the first 100 users to a free gift. Within 30 minutes, the code had already reached 100 uses.
The Chipotle Mexican Grill, however, is an isolated case. This is because the real limitation for brands in embarking on a communication strategy on BeReal seems to be the platform itself. In the app's terms of use, in fact, under User obligations, it states how BeReal prohibits the use of the platform for advertising or commercial purposes. The reason for this is clear: the conditions imposed by the platform are aimed at maintaining the authenticity of the content.
"BeReal is life, real life, and this life is without filters"
BeReal wants to position itself as a "breakthrough" social, redefining the beauty and lifestyle standards, to which other platforms-especially Instagram-have accustomed us.
One wonders, however, whether, once the novelty effect is over, the platform will be able to integrate updates that can keep users' interest high, also to cope with the fierce competition with other socials, which are beginning to copy some of its features. TikTok, for example, wasted no time and launched the experimental "Now" feature in the U.S., which proposes the same basic idea as BeReal, but adds video functionality.
Despite its great success in recent months, it is still too early to make predictions about the app's future. All that remains, therefore, is to keep an eye on it, test it and observe its growth, to assess possible communication opportunities. If it takes off, it would certainly be the ideal place to communicate to younger audiences, who keep migrating from app to app to escape the boomer invasion. If not, we can still say that we have witnessed an interesting social experiment.