The first time I heard the word "cantera" I was far from the offices of Barabino & Partners. I was visiting a family-run winery, where a young winemaker was telling me about the process through which wine ferments to achieve excellence. It's a path that requires precision, timing, and expertise, which are the key differences between a good wine and an immature one. After harvesting and pressing, the wine rests in the "cantera" until it reaches its optimal state.
As I listened to her passionately describe the characteristics of their vines, I remember thinking that it was a great life lesson: precision, timing, and expertise are the keys to success in many fields, including the one I chose to pursue as a profession. Just like wine, communication is an art that needs to be cultivated, day after day, to reach its most mature form.
The communicator's toolbox
These are the lenses through which I interpreted my formative experience at Barabino & Partners' Milan offices, where I had the great opportunity to learn from industry professionals the fundamental skills for anyone who wants to embark on the communication consultant profession. The Cantera was created precisely to train new communicators, providing them with a solid "toolbox" to support the client with precision and skill.
There are many tools that a communication consultant must learn to master to perform their job to the best of their ability: from press reviews to maintaining relationships with journalists, to recall activities and press release writing. At B&P, I was encouraged with empathy and trust to become familiar with these tools, trying my hand at their use first-hand. Supported by senior consultants, I was guided in drafting my first press release and making my first calls to journalists.
Listen to learn
Just like wine that rests in the "cantera" until it reaches its optimal state, in my journey, I felt my skills mature day by day, adding new tools to my personal toolbox. I learned not only by carrying out the proposed activities but also by listening to more experienced colleagues organizing events, carving out the most suitable speaking opportunities for the client, and carefully weighing the words of the press releases. All with a single goal: to help the client consolidate their identity, positioning themselves in the market with their own distinctive value.
A distinctive value that is accentuated by a dynamic and effective teaching method. Supporting my colleagues on different projects, I had the opportunity to realize how varied the communication consultant profession is. There is no magic formula for all clients: like a tightrope walker, the communication professional must be able to maneuver in different contexts, listening to specific needs and immersing themselves in the world built by the client.
Because communication is the common denominator of human experience: within each of us is a communicator who needs to be guided with empathy and professionalism to convey their message to the best of their abilities. This aspect is what I care most about in this profession, which is expressed in a series of training courses for clients.
Observing a media training session, I was able to witness firsthand the process of maturing clients' communication skills, as they were accompanied by senior consultants on a theoretical and practical path to learn how to better approach future interviews. I learned the importance of being able to observe with a critical eye to identify the potential of those in front of us. A logical process, but also emotional, requiring empathy, attention to detail, and a trained eye.
The value of words 
The value of words is something else that I learned during my time at Cantera at Barabino & Partners. I learned to distinguish information from news, reconcile the perspective of the media and companies, and recognize the value of words. As wine that rests in the cellar, day after day, experience after experience, I have been able to increase my professional skills to achieve my goals. Thanks to Barabino & Partners, I feel ready to enter the world of work, with a wealth of new knowledge learned from the great experts in the field.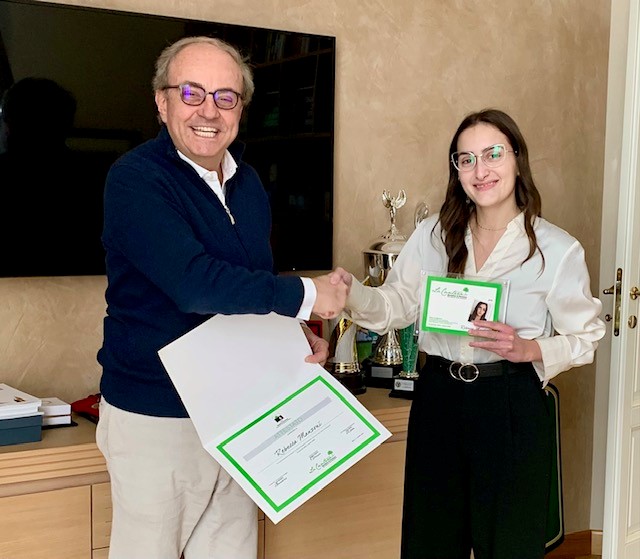 ***
Contributing to the on-the-job training of young people has always been a vocation for Barabino & Partners. For this reason, La Cantera internship program is structured to involve participants and make them active contributors to corporate communication consulting projects.
The "Parola ai Giovani" column is a space dedicated to them: the pen (or rather, the keyboard) is given to the enthusiasm, curiosity, and wonder of those who take the first steps in a profession, that of the communicator, which requires a lot of attention, great skills, and constant commitment. With the hope that memories of the beginning of a career filled with satisfaction can be collected here.