Luca Barabino wins the prize for Finance PR of the year at the Financecommunity Awards 2018. We are very proud and enthusiastic of this important achievement which has been awarded to Luca twice.
The contest, that counts over 800 guests every year and counted four editions in 2018, is promoted by Financecommunity.it, a publication led by Nicola Di Molfetta specialising in advisory topics. The aim is to elevate professionals in the financial sector that stand out for the number and type of operations, value of deals and personal characteristics throughout the year.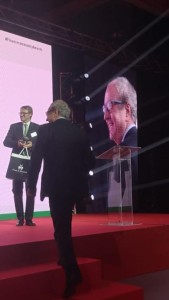 The prize has been awarded by the jury in light of the undisputed leadership in this field: Luca Barabino, the jury comments, is now the spokesperson for companies.
In these words, we acknowledge the reward, on behalf of the financial world, attributed in over 30 years of activity that Luca Barabino, together with all the professionals at B&P, have dedicated to this sector. An activity that is carried out with energy and passion, great expertise, elevating the talent, preserving its independence and that won't stop surprising us.